Extra
Curricular Clubs
We are extremely proud of the wide range of after school, extra-curricular clubs that we offer our children of all ages, throughout the school. 
We strongly believe in the value of extra-curricular activities; giving the children the opportunity to pursue an interest, excel in an area of expertise and enhance their learning.  As a result we offer a wide variety of after school activity clubs run from Monday to Thursday, led and organised by our teachers and support staff, whilst others are run by external coaches and experts.
All clubs will start week beginning 21st of September and will run from 3:15pm - 4:15pm. The last session will be during week beginning 7th December. Clubs will not run during half term, weeks beginning 19th October and 26th October.
Please see below 

an overview of all the clubs on offer this term.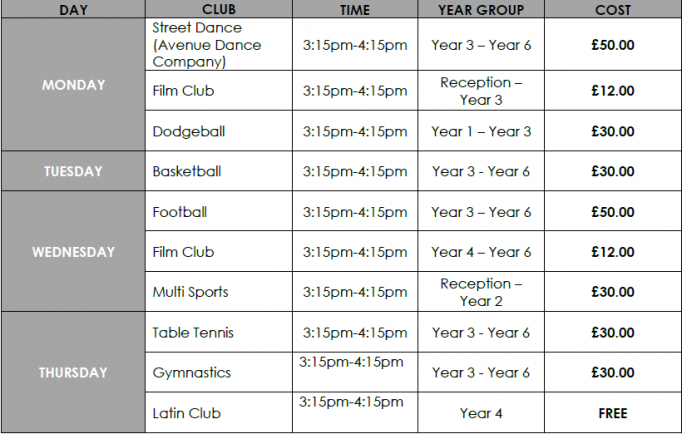 How can I sign my child(ren) up?
If you or your child would like to sign up to any of our after school clubs please log into your Parent Pay account and confirm their space.  Please note that clubs run by external companies; Football and Street Dance are payable via the instructions on the letters below NOT via parent pay.
All clubs have limited spaces and are on a first come first served basis.